They've spoken – our beloved Hollywood celebrities, those treasured guardians of our moral fiber. In a staggering display of unity, 250 titans of movies, TV, and music have brought their might to bear in an open letter, demanding the behemoths of Big Tech – Meta, YouTube, TikTok, Twitter – suppress any voice daring to question the new orthodoxy.
Let's get this straight.
We're not talking about hate speech here.
We're talking about a demand to extinguish any discourse that doesn't champion radical gender surgeries for children. Yes, folks, you read that right. If you dare question whether a child, a CHILD, should undergo life-altering surgery, then, by the Hollywood decree, you're out. Censored. Cancelled.
Why, you ask?
The reason, as stated in their well-crafted letter, is to stop the "massive systemic failure to prohibit hate, harassment, and malicious anti-LGBTQ disinformation." They claim that opposition to their agenda fuels real-world violence against transgender individuals. But isn't it possible that people might just have genuine, well-meaning concerns about such invasive procedures for minors?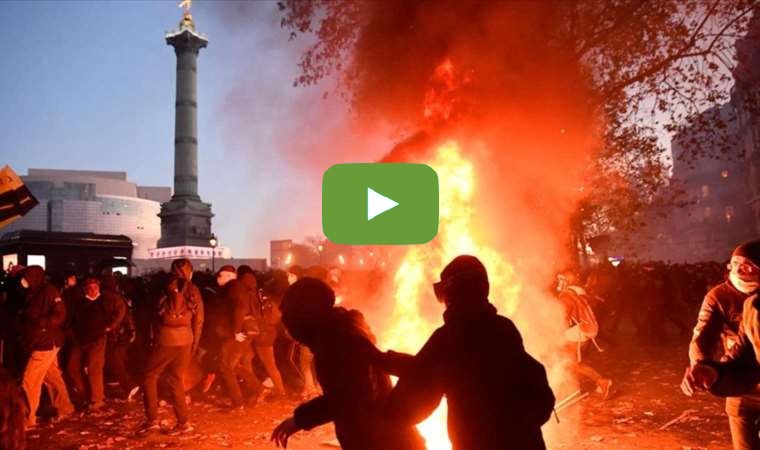 The Hollywood entourage includes familiar names like Amy Schumer, Ariana Grande, Demi Lovato, Jamie Lee Curtis, Judd Apatow, Patrick Stewart, and many others. They lambaste 'deadnaming' and 'misgendering,' referring to them as hate speech tactics, before going for the jugular, demanding to know what the tech companies are going to do to address "malicious lies and disinformation about medically necessary healthcare for transgender youth."
Yet, at the same time, a recent poll from Summit Ministries and McLaughlin & Associates shows that a significant majority of American voters – 61% – believe that introducing children to themes like transgenderism and LGBTQ+ may harm their emotional and psychological development. A further 73% demand businesses to stay neutral on such culturally and politically charged issues.
But hey, who cares about the opinions of the common folk, right?
We're not Hollywood celebrities after all, just ordinary individuals with everyday concerns about the world our children are growing up in.
While these stars enjoy their glamorous lives and sway public opinion, ordinary people bear the brunt of their ideological crusades. Is this the new face of free speech in the age of Big Tech – the silencing of the many to serve the beliefs of the few?
The letter is audacious, demanding platforms to counter 'misgendering,' 'deadnaming,' and any content which they perceive as anti-LGBTQ. It seems they've taken it upon themselves to become arbiters of truth, the unseen hand shaping public discourse.
Is it a coincidence that the stars' demands mirror the 'mitigations' used against those who raised questions about the 2020 election or the origins of COVID-19? Anyone expressing dissenting views was swiftly silenced, their voices removed from public platforms. Now, it appears, they're coming for anyone who doesn't endorse their views on transgender youth surgeries.
This is not about attacking the LGBTQ+ community or questioning their rights. This is about highlighting the egregious overreach of Hollywood stars and Big Tech companies in silencing dissenting voices. This is about the essence of free speech – the right to express an opinion without the fear of being cancelled or deplatformed.
Remember, we're not talking about anodyne changes here. We're talking about irreversible surgeries on children.
We're talking about sterilizing our young.
We're talking about an operation with deep and lasting consequences, both physically and psychologically.
And yet, if Hollywood has its way, this will be the new normal – an age where free speech is only free if it aligns with the whims of our glittering overlords.
This isn't a conspiracy theory.
This is happening right before our very eyes.
We must ask ourselves – is this the future we want?
A world where discourse is dictated by the rich and famous?
It's time to think, folks.
It's time to resist.
It's time to speak up – while we still can.
Abby Wambach
Adam Eli
Aitch Alberto
AJ Shively
Alan Cumming
Alejandra Caraballo
Alejandra Ghersi
Alex Clark
Alexandra Gutierrez
Alisa Ramirez
Allie Leonard
Allison Goldfrapp
ALOK Vaid-Menon
Alyssa May Gold
Alyssa Milano
Amber Ruffin
Amber Tamblyn
Amy Schumer
Amy Landecker
Andrew Polk
Angelica Ross
Annaleigh Ashford
Antoni Porowski
Aparna Brielle
Arden Myrin
Arewa Basit
Ariana DeBose
Ariana Grande
Arisce Wanzer
Avan Jogia
Barbie Ferreira
Bebe Rexha
Bella Ramsey
Ben Barnes
Benito Skinner
Benj Pasek
Bethany Cosentino
Bethany Leavel
Billy Eichner
Billy Porter
Bob the Drag Queen
Bobby Berk
Bonnie Milligan
Brad Oscar
Bradley Whitford
Brandi Carlile
Brandon Matthews
Brendan Hines
Bretman Rock
Brian Smith
Brigette Lundy-Paine
Brittany Tomlinson
Busy Philipps
Caesar Samoya
Camila Cabello
Camille A Brown
Cara Delevingne
Chani Nicholas
Chella Man
Chelsea Handler
Cheyenne Jackson
Chris Perfetti
Christa Miller
Cleo Wade
Colton Haynes
Corey Jantzen
Cynthia Erivo
Cynthia McWilliams
Cynthia Nixon
Cyrus Veyssi
D'Arcy Carden
Dakota Fanning
Dan Levy
Darren Criss
David Shatraw
David Oulton
Debra Messing
Deepica Mutyala
Demi Lovato
Des McAnuff
Devery Jacobs
Diana Maria Riva
Diane Guerrero
Diipa Buller-Khosla
Dylan Mulvaney
Ed Droste
Eddie Ndopu
EJ Marcus
Elegance Bratton
Eliot Rahal
Elle Fanning
Elliot Page
Emily Hampshire
Emily V. Gordon
Emma Hunton
Erin Reed
Estefania Pessoa
FLETCHER
Freddy Thomas
Gabrielle Union-Wade
Gigi Gorgeous
Glennon Doyle
Gottmik
Grace Kuhlenschmidt
Griffin Dunne
Haley Baldwin Bieber
Hannah Gadsby
Harry Lambert
Hayley Kiyoko
Hilary Montez
Ilana Glazer
Indya Moore
Isaac Mizrahi
Jackie Bazan
Jacob Tierney
Jai Rodriguez
Jameela Jamil
James Blake
James Scully
Jaymes Vaughan
Jamie Lee Curtis
Janaya Khan
Janelle Monáe
Janet Hubert
Jazz Jennings
Jeannie Mae-Jeninks
Jenna Lyons
Jennifer Kerr
Jeremy Fall
Jessica Betts
Jillian Mercado
Jinkx Monsoon
Joe DiPietro
Jonathan Van Ness
Jonathan Bennett
Jonny Pierce
Jordan Stenmark
Jordan Firstman
Jordan Roth
JP Saxe
Judd Apatow
Justin Baldoni
Justin Tranter
Kal Penn
Kamar de los Reyes
Karamo Brown
Kate Reinders
Katherine LaNasa
Kathryn Grody
Kellie Overbey
Kelly Devine
Kendrick Sampson
Kevin Harrington
Kevin Cahoon
Ki Griffin
Kimber Elayne Sprawl
Kimberly Drew
Kristin Chenoweth
Lachlan Watson
Laith De La Cruz
Laura Terruso
Lauren Jauregui
Laverne Cox
Lena Dunham
Lena Waithe
Lena Hall
Lilly Singh
Lily Rabe
Liv Hewson
Liza Koshy
Lola Tung
Lorin Latarro
Lovell Adams-Gray
Lucky Bromhead
Mae Martin
Mae Whitman
Maggie Boccella
Maitreyi Ramakrishnan
Mandy Patinkin
Marc Jacobs
Marc Kudisch
Marieme Diop
Martha Plimpton
Matt Bernstein
Matt McGorry
Matt Walton
Medalion Rahimi
Meena Harris
Megan Crabbe
Michael D. Cohen
Michaela Jaé Rodriguez
Michelle Buteau
Midori Francis
Miriam Silverman
Moj Mahdara
Molly Bernard
Mona Chalabi
Montego Glover
Munroe Bergdorf
Nate Wonder
Nats Getty
Neila Karassik
Nicholas Ferroni
Nico Carney
Nico Santos
Nico Tortorella
Nicole Maines
Niecy Nash-Betts
Nik Dodani
Ocean Vuong
Olly Alexander
Our Lady J
Padma Lakshmi
Patrick Stewart
Patti LuPone
Peppermint
Phillip Picardi
Phoebe Robinson
Poorna Jagannathan
Rachel Cargle
Rafael Silva
Ramy Youssef
Randy Shulman
Raquel Willis
Richa Moorjani
Rob Holysz
Robert Horn
Rory Dahl
Rosario Dawson
Rupi Kaur
Sam Smith
Sander Jennings
Sandy Rustin
Sara Bareilles
Sara Ramirez
Sarah Ramos
Sasha Velour
Scott Turner Schofield
Shawn Mendes
Shea Couleé
Shea Diamond
Sherri Saum
Sinead Burke
Solomon Hughes
Stephen Kunken
Susie Park
T. Oliver Reid
Taika Waititi
Tan France
Tatiana Maslany
Tess Holliday
Tiffany Namtu
Tommy Dorfman
Tracee Ellis Ross
Travis Alabanza
Tunde Adebimpe
Vivek Shraya
Wanda Sykes
Warren Carlyle
Wayne Cilento
Wilson Cruz
Yves Mathieu East
Zoë Chao
Zooey Deschanel